This piece, by far, might be my favorite project I've ever tackled. It is so rewarding to pay very little for a piece of furniture that needs a little TLC, and watch it transform into a beautiful piece (that many people pay A LOT of money for in an antique store) with just a little creativity, time, and effort!
None of the projects I ever take on are "hard". The work entailed is easy enough for anyone to do, it just takes time. So find some patience, and give your ugly dining table a makeover. Especially if it's blonde oak like mine was!
Now this table. Oh man. She was a homely one before I got my hands on her. We bought her from a nice man here in NC who raised his family around it for the last 20 years. He said he paid about $1,200 for it brand new in Alaska back in the day. But aside from an ugly water stain on the table top, and the barbeque sauce I kept discovering when I went to give her a good cleaning, the bones of this table and the 6 chairs that came with it were STRONG. And everything was very well taken care of for it to have held up so wonderfully for 20 years! But… It's 2015 now, and I'm just not into the yellow oak color. Blech.
We paid $240.00 for this set that we found on Craigslist. I wanted a "family" table, and at 10ft long when both leaves are in, this one fit the bill. *And the kind man even delivered it for us since we have no way of conveniently hauling furniture up here. If it can't be delivered, or tied down to the top of our Honda Accord, we ain't getting it!*
As far as the look I was going for, I wanted something a little less "modern" and something a little more "country" and "cozy". Ultimately, I had a picture in my head of a two-toned table. Light colored base, dark top. Plus a little distressing on the base since I know my painting skills aren't exactly perfection.
And before I go into how I got things done, let me say this:


Have fun with picking your own colors. There are so many options out there, so make it your own! That's part of the joy of DIY. Make your piece to fit you and your home. And then send me some pictures so I can swoon over your work!
Now onto the work.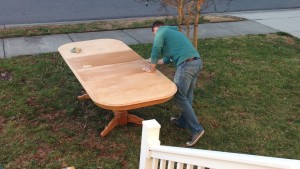 Step 1: Sand that table top! And do it outside, because that junk is messy!! My research beforehand brought up all kinds of advising against using an orbital sander for this step. It made sense, especially if plans were to involved a stained table top. Using an orbital sander was said to be too much, causing you to potentially sand too far down past the top coat and imperfections, and risk taking away the grain of the wood. And that's no fun! BUT. We started with a sanding block and a coarse grit paper, and it was kicking our butts! We were going through so much paper, and not really getting the veneer off the top so that our stain would work later. So we broke the "rules" and dug out that orbital sander! And our arms were grateful! And we were pleasantly surprised to find that with a generous amount of caution and 80-100 grit paper, the wood grain remained!
So we sanded until smooth all the way across, and then cleaned ALL the dust off, and moved her back inside.
Step 2: Flip your table upside-down and paint the base. For the table, I used the same exact chalk paint recipe I shared with you here for my tiny time-out chair. Same recipe, same process. Mix your paint, get you a good paint brush (I like a 1.5″ angled Purdy brand), and get to work. Three coats did just fine for us. The basic principle is to just build your coats to as smooth a finish as possible. And don't worry about painting what isn't going to be seen – such as the under side of the table top. Just focus on the important parts. *And again, like the chair post, your first coat is gonna look a mess. But it will all smooth out and cover more as you get further into it.
See? This was in between coat #2 and #3. Much smoother already.
Right about now is when I started breathing a big sigh of relief. I felt like the hardest part(s) were over… And I was right! From this point on, everything just went on smoothly, and I really began to see the transformation right before my very eyes.
Welcome to step 3: Staining.
Because I'm a little OCD, I gave my table's top one more good wipe down with a wet cloth. That sanding dust can get into every nook and cranny, and I didn't want anything messing up my gorgeous stain! We knew we wanted to go dark, but I was a little picky about staying on the side of brown tones…maybe even with a little yellow tint to it. But not cherry, and not black. So we stood in the aisle at Lowes and nicely argued over which brown was best. He wanted Kona (too black for the look I had in my head), and I thought Walnut sounded nice and country and cozy. So we met in the middle and chose Dark Walnut by Rust-oleum. I'm telling you, I like their products! Give the can a good shake, open it up, and rag it up!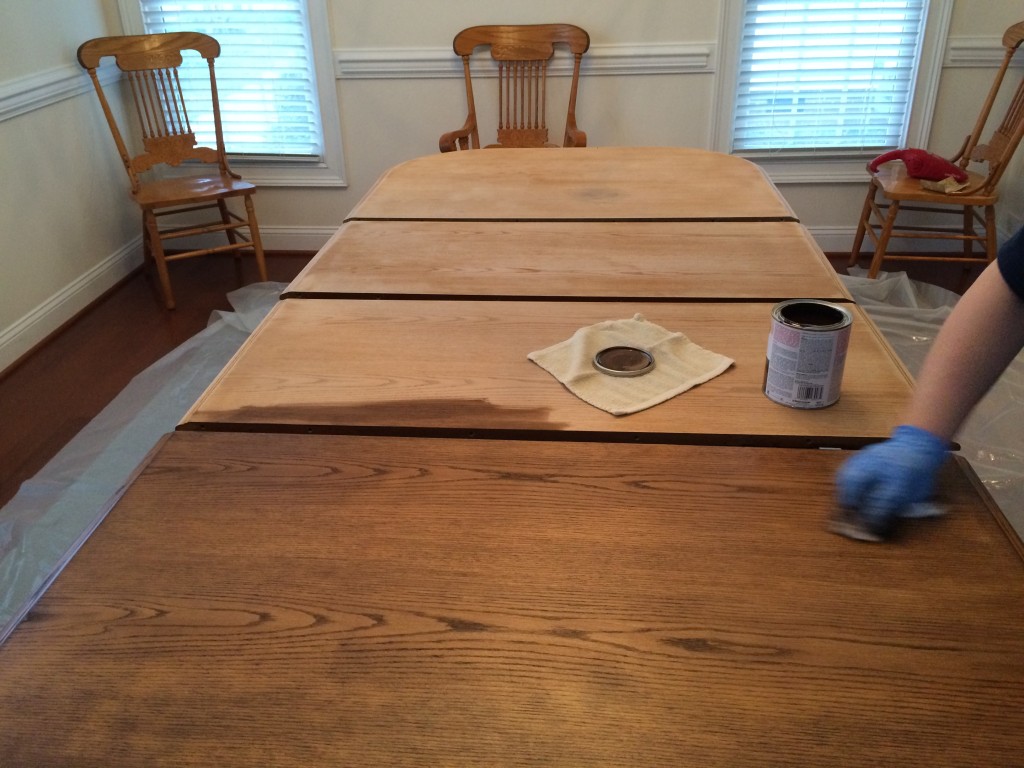 Walmart sells a pack of 5 flour sack cloths for $5. I love these rags for projects! And I mention them because they're especially great for staining! And they're inexpensive enough that when the stain ruins your cloth – and it will – you can just toss it in the trash and use a new one for the next coat.
We did about 1 coat of stain per day for about 3-4 days. Total, our top got 4 coats, but the only rule here is to stain to your liking. You can go as light or as dark as you want!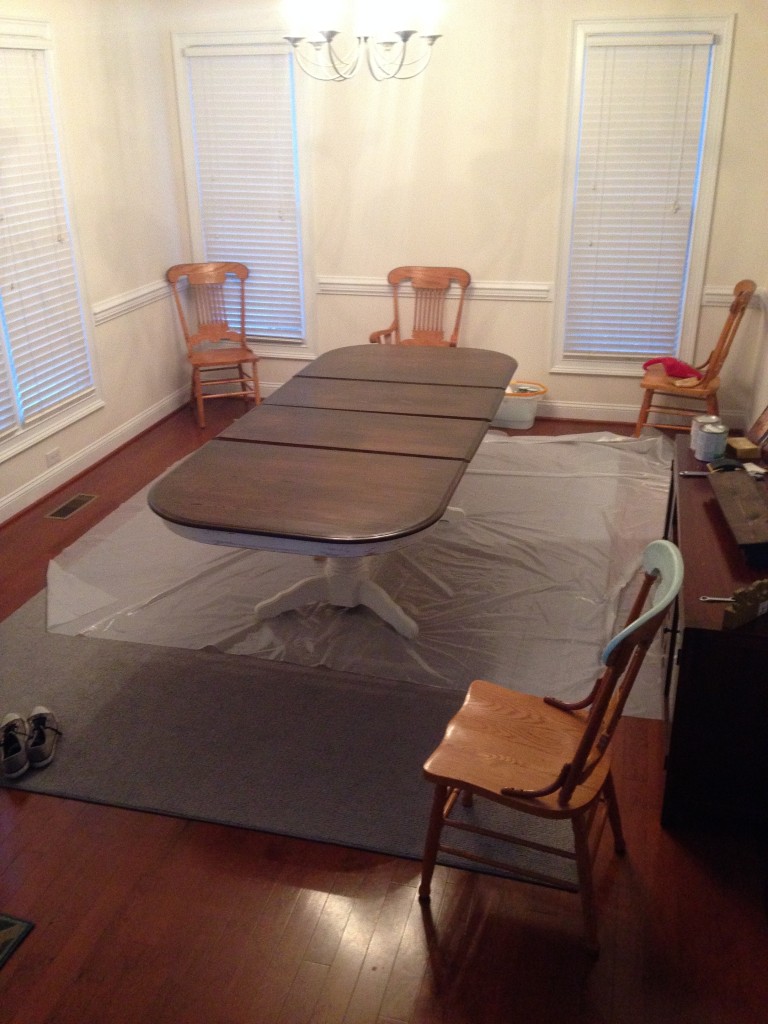 Then I just finished up the top by putting on a couple coats of Rust-oleum's satin interior Ultimate Polyurethane. Also mentioned here. This is an extremely important step in order to protect your table top from stains and water marks! I just used a 4″ foam roller and coated the entire top with a good three coats. Seal and protect all that beautiful labor you just did!
*Also, I should mention here that I didn't paint my table's base with the poly. You can if you want to, as it isn't going to hurt anything. In fact, it will give yet another layer of protection against the wear and tear over the years. But if you plan to distress your base at all, do that first before putting on your top coat. So: paint, distress, top coat. I just wasn't as concerned with the base in this aspect, so I skipped the top coat.*
Once your table is all painted & stained, you're onto your last and final *optional* step: Distressing.
Again, I'm not big on heavy distressing. But that's just my personal taste. You can do as much or as little as you want! Heck, you can even forgo the extra work, and leave your table crisp and clean! But in my house, the toddler will dent and scratch and give furniture a good beating, so I just roughed up the edges a bit. With a piece of 120 grit paper and a sanding block, I just scuffed up corners and beveled edges. And I'm really happy with the way it turned out.
And that's it, people! That is it. I'm in love with the simplicity, but I'm proud of how beautifully it turned out! And I'll say it forever and ever: If I can do it, anyone can!
$240 for a gigantic solid wood table and six matching chairs
+ about $100.00 for supplies
= less than $400.00 for a set that I plan to raise my family around!
The chairs are up next! Happy DIYing!