Yeah. Weird title. I know. But don't judge a book by it's cover. Stick with me.
This is just a little dish I came up with some time ago when my husband went on a business trip. He's not a big pasta person (I think I mentioned that in my last food post! Ha!), so I took the opportunity to enjoy every carb-loaded bite. Cliche? Maybe. But these are just the facts: I'm a female. I like comfort food. Especially carbs.
And at the time, I was still a new mom, and he was leaving me for 4 or 5 days with a young toddler. Which brings us to another fact about me: I hate to be alone. So for some reason, I had this picture that a big pot of starchy noodles and a homemade meaty sauce would make it all right…
I guess on some level, it did make everything right. Because I'll have you know that since that business trip, I coincidentally have made this dish every other time he's been gone at dinner time. Like just a few nights ago when husband had a swanky business dinner to attend in Durham with his colleagues…
Am I being a baby? I am being a baby, aren't I?
Nevertheless, I was feeling sorry for myself a day or so in advance; the thought of a night at home alone in a new city where we don't know anyone. No girlfriends to call to come over. Can't go anywhere since we rock only having one vehicle. So I called on my bff Rigatoni. And she didn't let me down.
So. This dish. It's creamy. It's flabory as my kiddo would say. It's simple. And it's delicious. And although I call it a ragu, it is void of tomatoes. This is my alternative version of ragu.
May I introduce you to Lonely Girl Ragu.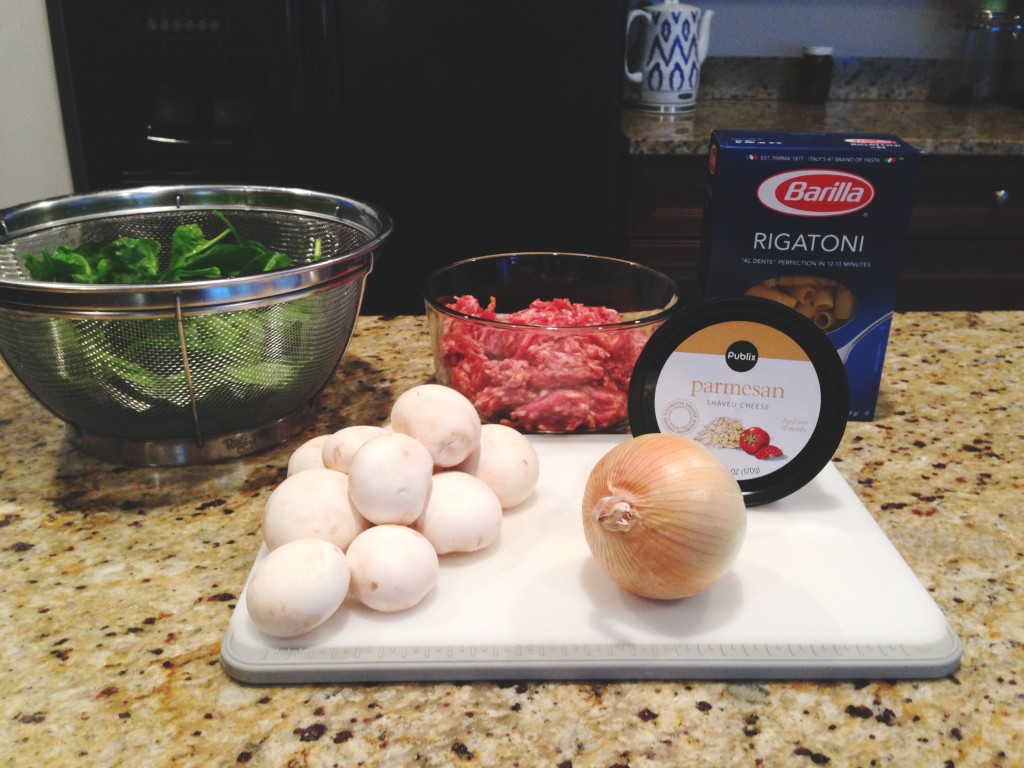 Ingredients pictured
1 lb ground Italian sausage
1 small-medium yellow onion, chopped
1 package button mushrooms, sliced (If you buy them whole like I did, wipe the caps with a damp cloth. Do not rinse mushrooms under water. Makes them tough)
A couple cups of fresh spinach leaves, rinsed clean
1 lb box of Rigatoni noodles
Freshly shaved Parmesan cheese (you can certainly buy a block of Parm and shave it yourself with a peeler. But just know that you can save yourself some time and buy it in a container already shaved. And it tastes good.)
Ingredients not pictured
1/4 cup all purpose flour
2 cups vegetable broth (the canned or carton kind works just fine for this recipe)
1-2 cloves freshly minced or pressed garlic
salt & pepper to taste
pat(s) of butter
I get all of my ingredients ready and prepared to throw in the pan before I start cooking. Just makes it easier to not have to be opening packages and rinsing vegetables and chopping while your meat is cooking to death on the stove. Save yourself some sweat and stress and do your prep. Not just for this recipe, either! Make that a habit in your kitchen. You will thank me later.
Once you're all prepped, start cooking!
Browning your Italian sausage is up first. Get that pan nice and hot on about medium-high, and add a pat of butter and a round or two of some olive oil. You can't ever go wrong with a little extra flavor, and some non-stick assistance. When the meat is browned, take it out of the pan and drain *most* of the fat. Not ALL, though. You will need a little bit of the fat later to make the roux to thicken the sauce. Set the browned meat aside.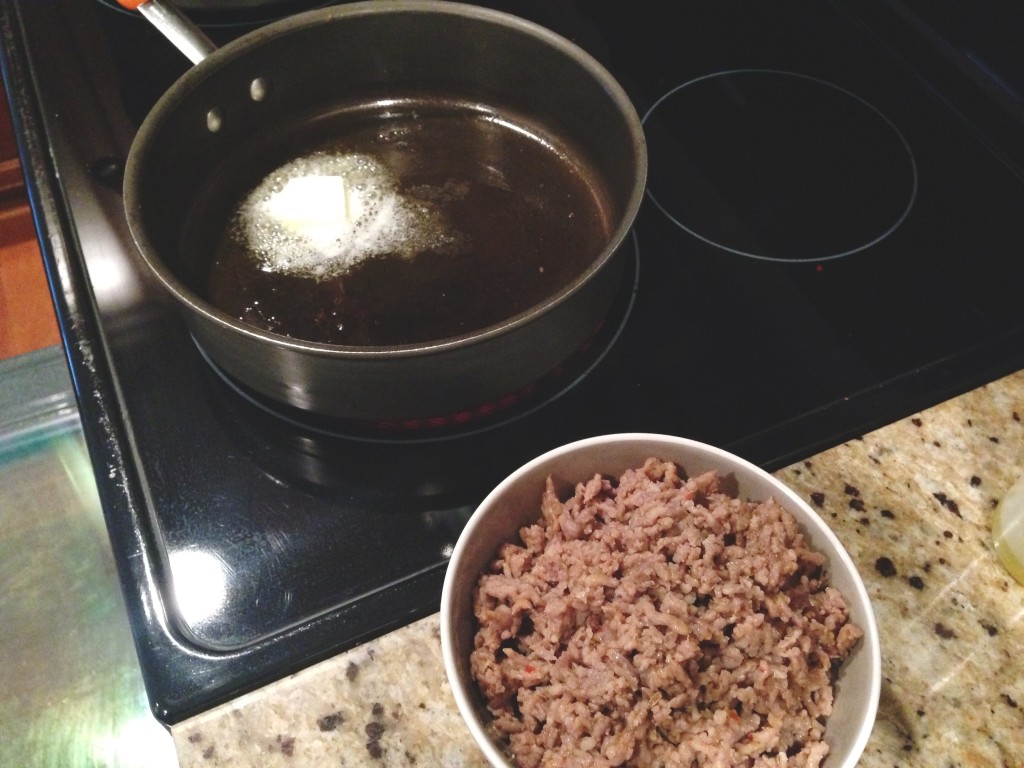 Now add another pat of butter to your pan and add your chopped onion, sliced mushrooms, and garlic. Saute those for a couple minutes, just until the onion starts to look translucent, and the mushrooms have some brown color to them. Fragrance from Heaven, I tell ya!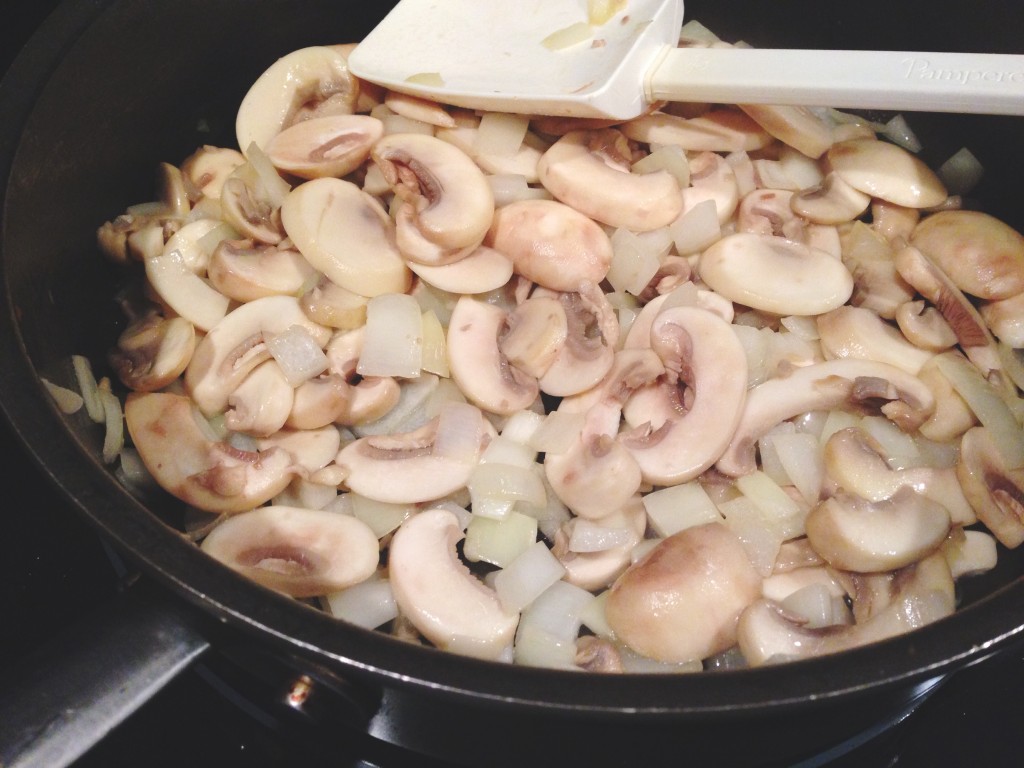 Add your meat back to the pan. Mix to combine your ingredients.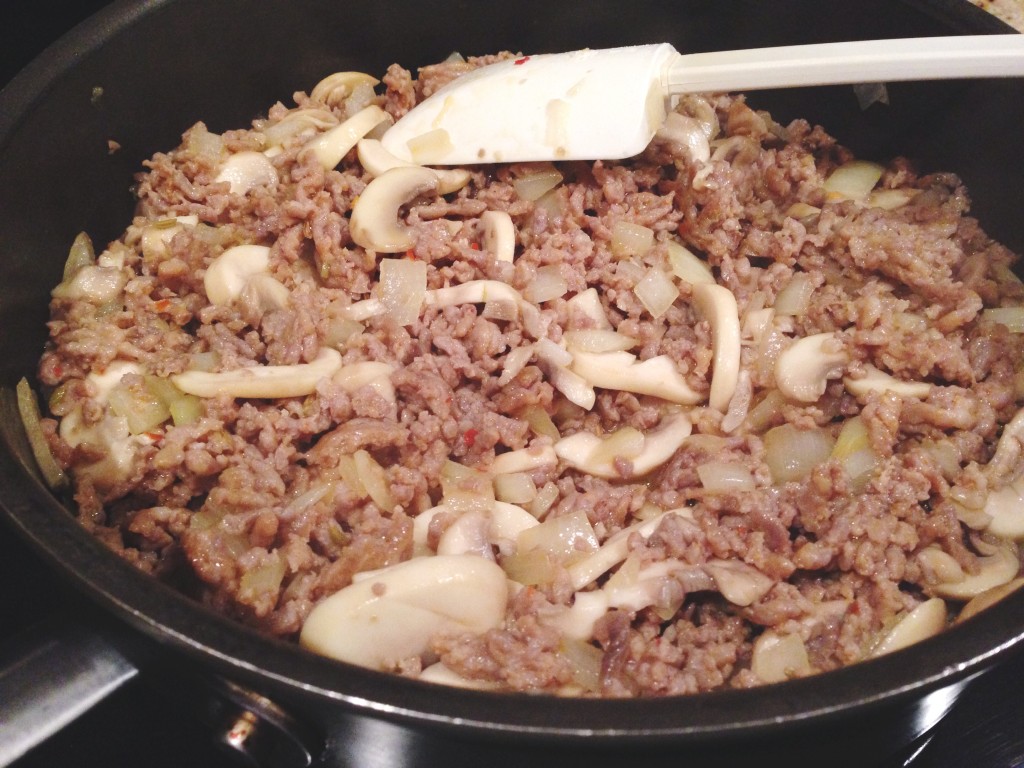 Ever made a roux? No? Don't be scared. It's just a fancy word that describes the process of using a fat (like butter) and flour to make a thickener for sauces and such. So here you have this pan of browned sausage and vegetables. There should be a little fat on the bottom from the meat. Utilize that, but also add another pat of butter to the pan. We're striving for comfort and flavor here, people. Don't judge me.
When the butter melts, sprinkle about a 1/4 cup of all purpose flour on top of the mixture. Mix everything well to really incorporate the flour to coat the meat and veg. It will look a little weird, but hang with me. Keep stirring it around for a minute or two and let that heat cook out the flour taste.
When it's all combined and cooking, slowly add in your vegetable broth and stir simultaneously. Notice I don't have photos of this step? This is why.
You want to add the broth slowly as to not cause your sauce to be lumpy. Pour and stir. Pour and stir. Get those lumps of flour out. Think smooth sauce. If you incorporate your broth slowly, you will have smooth. If you pour the broth in all at once, you can bank on lumpy. Now turn your heat down to medium-low. You want that sauce to simmer and thicken. Not TOO thick, though. Just thick enough to coat the back of a spoon. Like gravy. *If it's too thick, you can always add more broth. Just add little bits at a time until your sauce is the desired consistency.*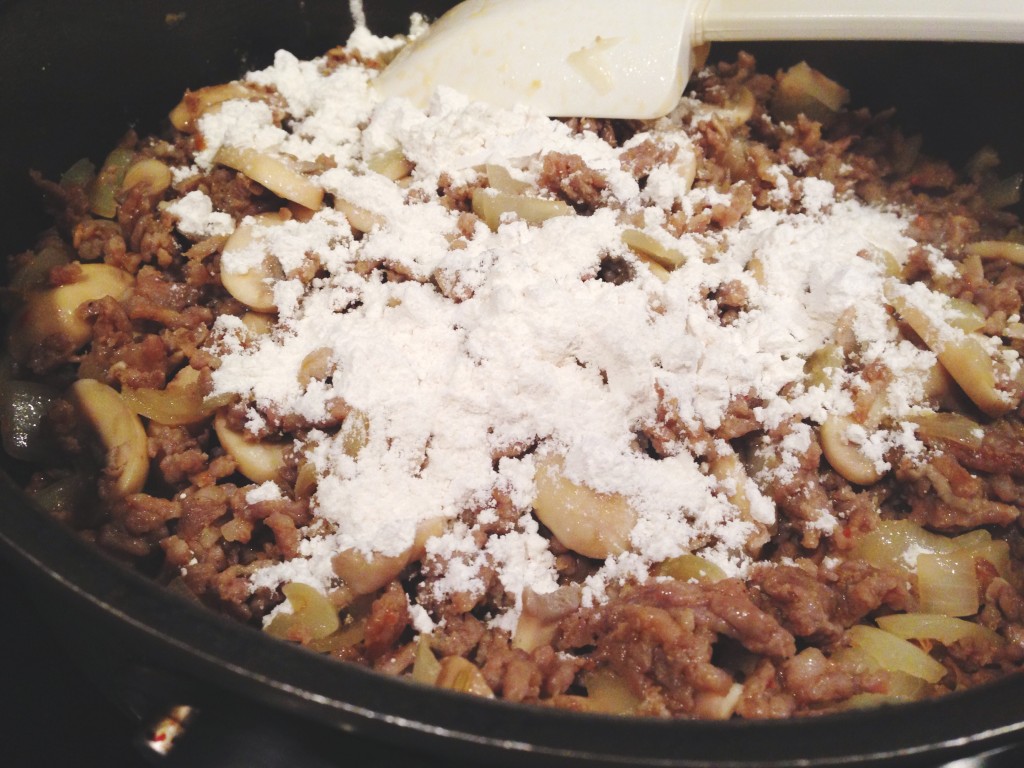 Like this. See? It will thicken as it simmers. Now just let it cook while you get ready to cook pasta. Oh! And go ahead and add some salt and pepper.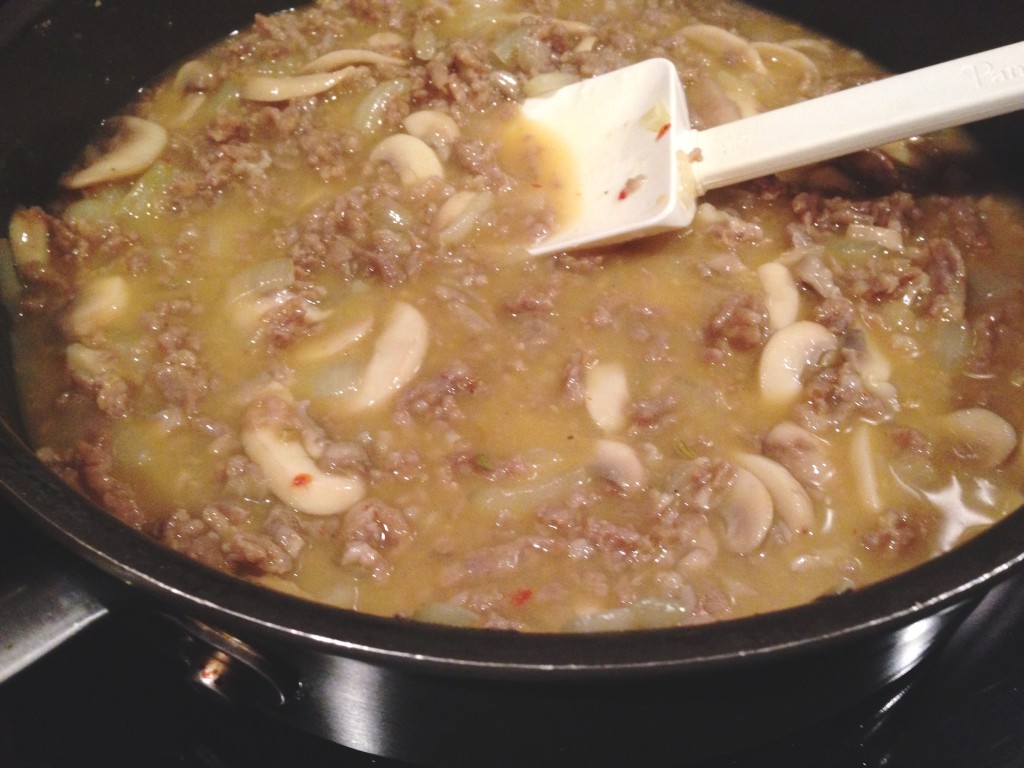 While the sauce is going, get your pasta cooking. Salt your boiling water really well. Follow the directions on the box. Shoot for "al dente". That means cook those noodles a minute or two or even three short of the suggested full cook time on the box. If the box says 9-12, go for 9. Or whatever. You get the point. Al dente. With a little bite to it. They'll finish cooking in the sauce. But for the love of pasta lovers all over the world, DON'T OVERCOOK THE RIGATONI.
When your pasta is about done, add your fresh spinach to the sauce. Just pile it on top and put a lid on top.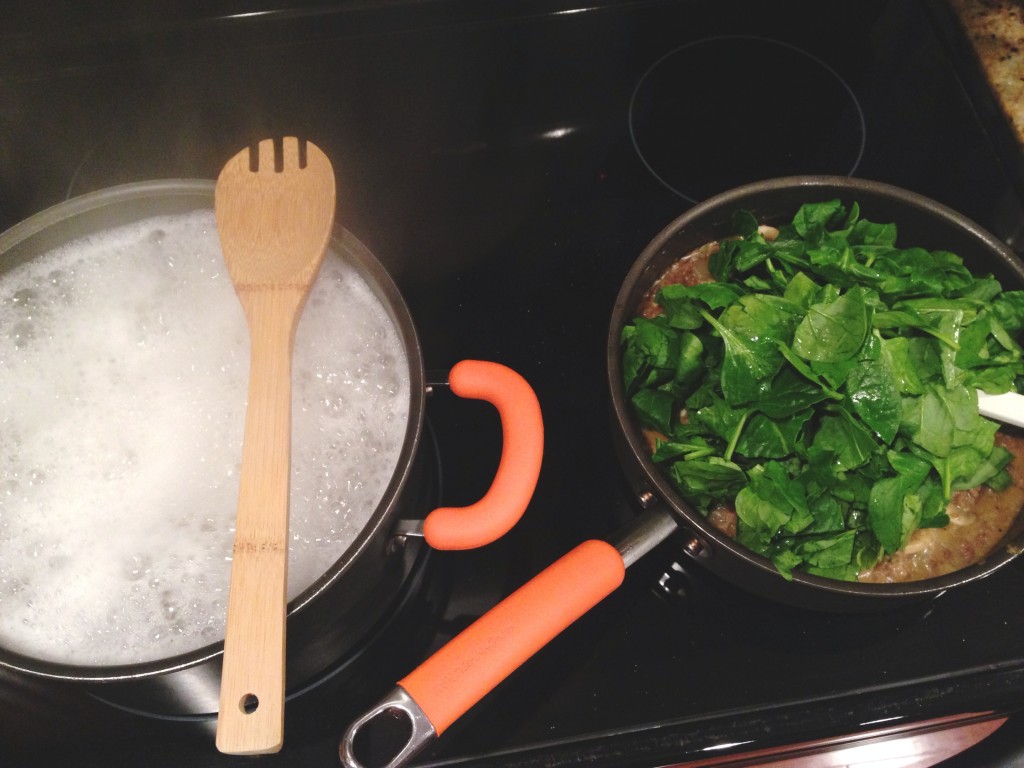 The spinach will wilt down and be a little easier to incorporate.
Drain your pasta, add it back to the large pot, and pour your sauce over top. Mix it well to coat every deliciously gorgeous noodle. Rigatoni has the best ridges. They catch every last drop of that homemade sauce. I'm not obsessed at all.
My favorite step is now. Grab that cheese, fill your hand with it, and make it snow. Do not spare. Be generous. Lots of cheese. You need at least one shave per bite by rule of thumb.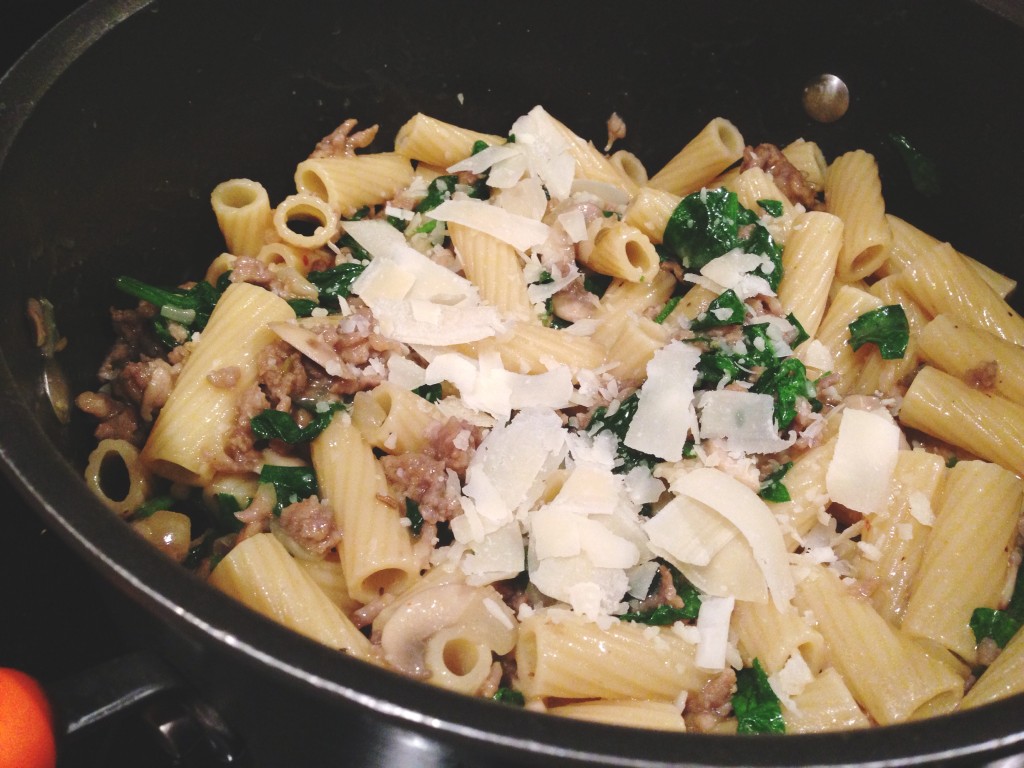 Now bowl it up, and pair it with a nice Pinot Grigio. And take comfort. Loneliness doesn't matter as much. This delicious homemade bowl of Heaven matters right now.
My girl and I enjoy it every time Dad is gone. And we've declared it a tradition in this household.
Okay. It was mostly jokingly, but now I'm thinking pretty seriously about it. It's that good.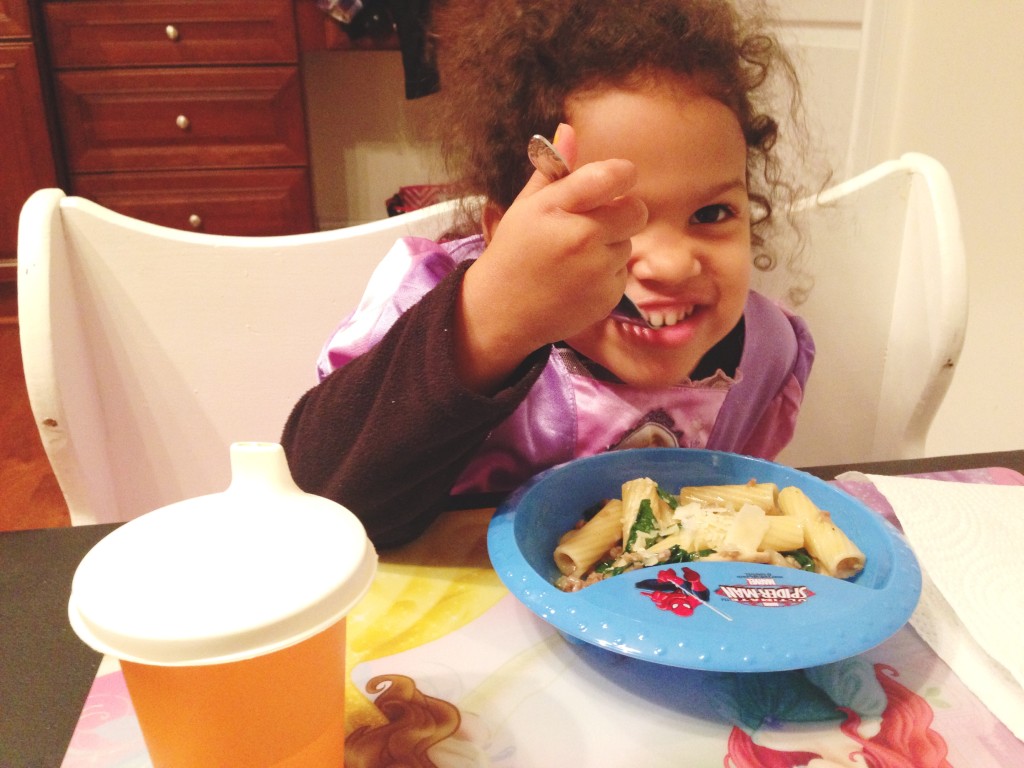 Next time you feel lonely creeping up, make this and let it instantly cheer you up. Happy Eating!!
Some notes and options:
You do not have to use Italian sausage. If it's not your choice of meat, you could certainly substitute chicken breast or cutlets. Get creative.
For mushroom haters, you could leave them out. It wouldn't be as good, but still good. I guess.
I've also used chicken broth before, in place of the vegetable broth.
Try switching up cheeses, too! I'm sure Pecorino Romano would be delicious. Or even the addition of some shredded Mozzarella. Yum!